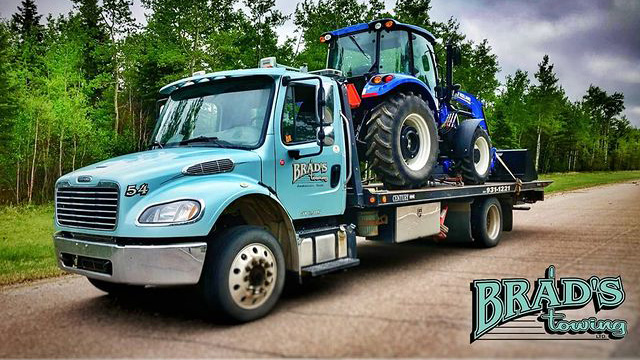 You name it, we have the equipment to haul it. We will get it there fast and safely to meet your needs!
Transport of show cars – sheds – equipment Whatever your transport needs, we can fulfill them. Don't risk driving your show cars on the highway. We have a solution to suit your needs.
Tilt Decks and Slide Axle Trailers – 21' – 53' We run 4 divisions here. Loads up to 10,000 pounds – Loads up to 14,500 pounds – Loads up to 22,000 pounds and Loads over 22,000 pounds. Let us know the weight of what you need moved, and we'll send the right unit. Your product is insured while its in the care and control of our trained operators. Deck trucks come in lengths from 21' to 29'. Slide axle trailers are 48' or 53'. We also offer double drop and step deck services.
Farm Equipment This is Saskatchewan and farming is a big part of our Province. It is often that equipment needs to be transported from one location to another. Trust us at Brad's to get your equipment there safely and on time. We are experienced and respect and understand the need for the equipment to arrive damage free. We travel slow to ensure that it is. Seeders – cultivators – land rollers – double discs – hopper cones – tractors or combines; just call us up!
53' Vans Trailer damaged? We keep a 53' dry van in our fleet available to transfer freight out of damaged trailers. If your trailer has been involved in an incident, we can get your customer taken care of with the use of our trailer.
"Don't see what you need here? Call our Professional team to see how we can help.