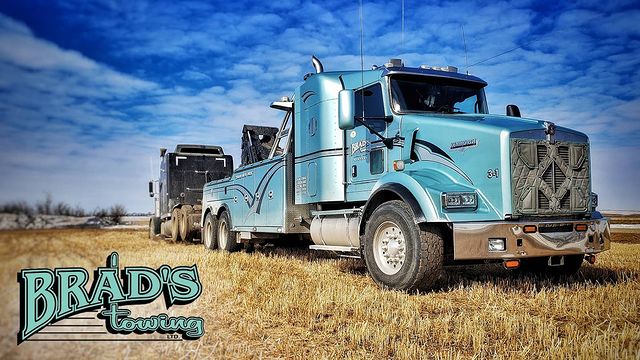 Get the job done with strength and efficiency. We have the ability to handle any rigging and recovery job. Strong underlift reach and positive vertical tilt systems provide maximum power.
Drivers in this class operate a heavy-duty wrecker capable of towing a variety of large automotive equipment such as tractor-trailers, heavy-duty dump trucks, buses, and large motorhomes. Clears accidents involving heavy-duty vehicles from streets and highways.
Underlift Equipped for damage-free towing. Todays Heavies have developed damage-free towing operations utilizing wheel lifts with frame forks or wheel lift systems. Such lifting apparatus are suitable for the towing of heavy vehicles such as trucks and buses. Large vehicle recovery trucks known as " heavies" are equipped with dual winches from 25 ton to 50 ton.
Heavy Duty Recovery We can recover any large vehicle from 3 tons to semis. Graders, back hoes or farm equipment; just give us a call!
Accident Recovery We have air cushions, light towers, skid steers and forklifts and can provide our own traffic control to keep our recovery techs and customers safe on scene. We are an authorized towing and recovery service for all major insurance agencies. In most cases, we can direct bill. Big or small, we offer recovery, towing and storage from any incident. Tell the Police Officer on scene you prefer Brad's Towing!
Boom Work Need something lifted? Give us a call, we just may be able to help. From undecking stacked trucks to trailers to loading equipment onto your deck; our rigging insurance and training can get the task handled.
Air Cushion Recovery Air cushions are used to assist with up righting heavy-duty trucks, trailers, that have rolled over. In conjunction with heavy-duty wreckers, we place air cushions under an overturned casualty and inflate them. In many cases, this system allows us to upright trailers or tankers without offloading the cargo and minimizing damage to the vehicle.
Switch Tractors When one of our customers experience a breakdown, we can tow out their own "switch tractor" so their load can continue to their customer. This saves them the need to send a second driver. When no switch tractors are available, we just might have some of our own!
Local and Long Distance (Canada and US) We recover vehicles from throughout Canada and the US.
"Don't see what you need here? Call our Professional team to see how we can help.