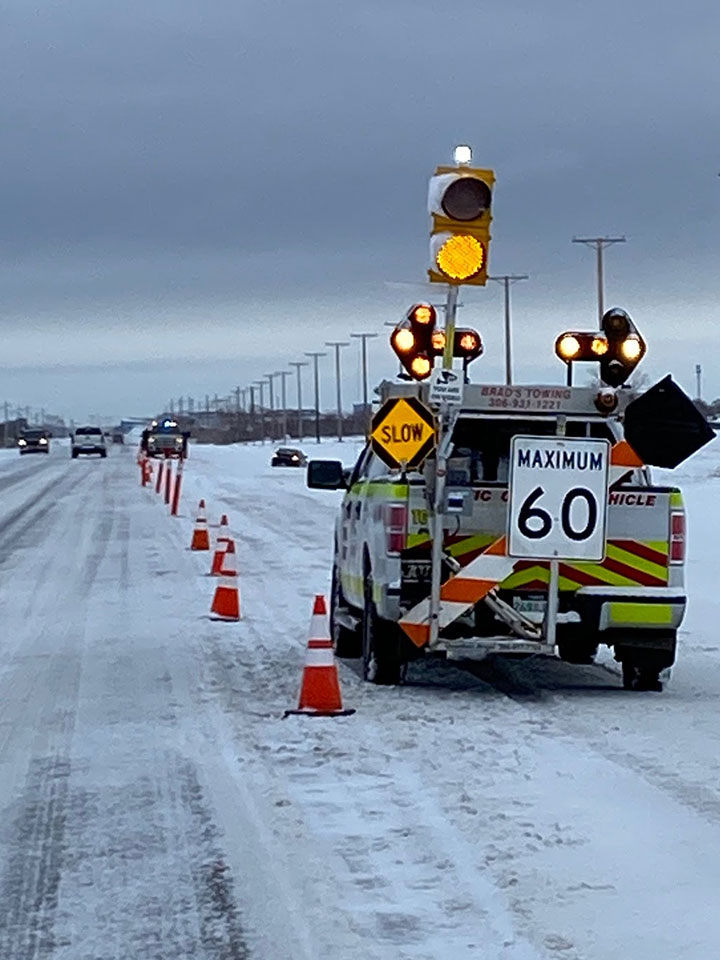 Pilot Trucks We keep 3 ready to go pilot trucks for moving wide loads when asked to do so. They can be used as hired help for your load and sometimes we just get people through the City. Trucks are equipped with most of the used two-way radio channels and C.B.
Traffic Control We keep 2 traffic control units to assist at accident scenes or hook ups and winch calls in high traffic areas to keep us and our customers safe.
"The Lieutenant" Winch Skid This recovery equipment is a tracked skid steer with a winch skid attached at the front. It carries 300' of cable on a 30,000-pound winch, complete with recovery straps, chains and blocks. It can get into those hard to get to places where a regular Tow Truck can struggle. It is equipped with two-way communication between the operator and the recovery tech doing the rigging. It has been used on summer roads – snow filled ditches and tight construction sites throughout the Province.
Accident – Incident Recovery All of our divisions have been called to attend and clean up accident scenes. From a simple fender bender that can render your vehicle undriveable, to a major multi vehicle incident or semi roll over with a spilled load; we can respond with a regular tow unit or a complete recovery fleet with air cushions, lite towers, forklifts, and skid steers. Tell the Police on scene that you prefer Brad's Towing Service! 
Ice/Water Recovery We work with divers and are equipped to handle on ice recoveries or distance from shore water recoveries.
Specialty Recoveries Whether it's a plane – a 130,000 pound drill rig – a rolled or stuck piece of equipment, we've been there. We are COR certified and can provide JHA's upon request to site supervisors. Our specialty recovery team is Wreckmaster trained and certified. Resistance loads are calculated, plans are put into place and executed with rigging safety factors in place. See our gallery for some of the service we have provided.
"Don't see what you need here? Call our Professional team to see how we can help.